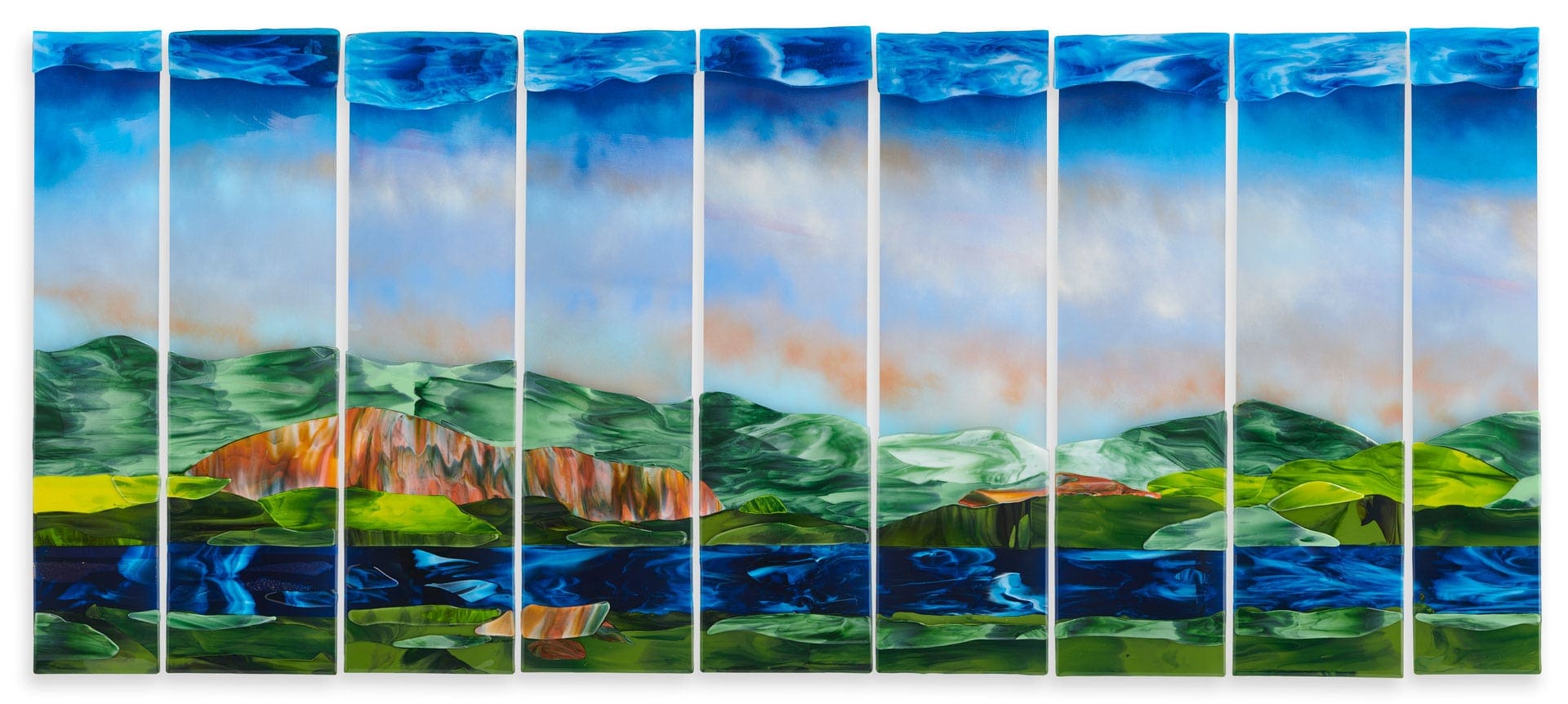 FOR IMMEDIATE RELEASE…
SUBJECT: New art installation
CONTACT: Caroline Parent
PHONE: (603) 740-2900
Artist Completes Major Installation at Dartmouth Hitchcock Medical Center
DOVER, NH—Caroline Parent, a Dover, NH artist who works in fused glass, recently completed a large-scale work for the Patient Pavilion at Dartmouth Health Dartmouth Hitchcock Medical Center in Lebanon, NH. The five-story building, which began construction in 2020, features Caroline's stunning glass panorama in the lobby. Called "Transformation," the site-specific project is comprised of nine individual sections of fused glass and painted birch panels which stretch 136" in length and 60" in height. The art was installed in an illuminated, custom-built wall niche which faces the waiting area. According to Parent, the art was inspired by the rolling hills, lakes and wide blue sky so typical of the region. Soothing blues and greens are a counterpoint to the vibrant yellows and oranges of the colorful scene. As the daylight changes, the colors and images within shift as well, transforming the piece into new impressions.
While most of the art is fused glass, Parent painted the upper panels in order to give them a more abstract and dreamy quality. Now, when one views the sky, the imagination can take wing and interpret varied shapes and places in the soft clouds.
While the artwork took many months from concept sketches to finished product, Parent did the final installation in one day, starting at 6 a.m., thanks to much careful preparation. She worked closely with the building's project manager and interior designer so that the art worked perfectly with the space and the colors of the décor (note how the salmon-colored chairs match the salmon hues in the glass). It was also imperative that the wall space be planned to support the nine glass panels and showcase them appropriately.
"My artwork is my legacy so I take great care to make sure that it is exactly right for the building, the setting and the client," says Parent. "It is a joy to complete projects such as this for medical facilities. I am honored to be invited to design for them, and so happy to think that my work may bring peace and happiness to those viewing it."
Parent hopes that the art will take others on their own journey of change as they contemplate the art and savor a few moments of peace and relaxation.
Parent has created stunning luminous art for medical facilities, and other corporate entities and community spaces all over the Northeast. Her next project is currently being worked on in studio and is an outdoor display for the former Strafford County Courthouse property in Dover, NH.  View examples of Parent's work and learn more at www.eyefeastart.com, or contact her at (603) 740-2900. 
Check out the short video of the installation below.