Caroline Parent, Artist & Art Consultant
Caroline Parent, principal of Eye Feast Art offers 20 plus years of experience working with executive directors, hospital presidents, designers, architects, individual collectors, and property management companies on a diverse range of art projects. Eye Feast Art has been commissioned for many healthcare and corporate installations in the New England area.
"Project work is a process, I enjoy the creative discoveries along the way. The professional relationships made are unique and so valuable for each journey to installation. Art design for healthcare environments is a strong focus of my art and our project work. Many of my clients are repeat clients. It is a meaningful, rewarding process to put art installations into the world for people to enjoy." — Caroline Parent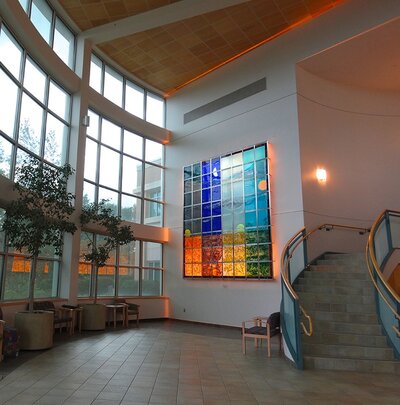 Services:
A brief listing of our service offerings
Art consulting services to recommend art options for your space/project in healthcare, commercial, and home interior settings
Design and create original site-specific art
Professional installation
Develop facility art master planning program for new or existing interior spaces
Source supplemental artwork
Our artwork is available for purchase or lease—suitable for hospital/healthcare facilities, corporate, and private collections
Art rental programs featuring original work made by New Hampshire and New England artists
Live plant installations & care in our regional area
Plants support a healthy environment. They purify the air and complement our work by adding a natural living element to a space. We can select plantings that will work well with the art in a chosen environment, and are available to care for the plants on a contract basis.
We look forward to working with you
Contact us to discuss your needs and request an initial, no-cost, space evaluation!